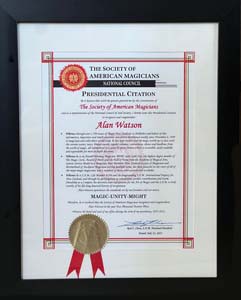 S.A.M. Presidential Citation
At the Social of American Magicians 2023 annual National Council Meeting and Convention in New Orleans, Alan Watson was presented a National Council Presidential Citation.

About the The Society of American Magicians

The Society of American Magicians (S.A.M.) is the oldest fraternal magic organization in the world.

Founded on May 10, 1902, in the back room of Martinka's magic shop in New York City, the Society expanded under the leadership of Harry Houdini during his term as National President from 1917–1926.


The Society of American Magicians
S.A.M. Presidential Citation
Presented by Rod J Chow, S.A.M. National President
July 23, 2023
And as a representative of the National Council of said Society, I hereby issue this Presidential Citation to recognize and congratulate Alan Watson

* Whereas through over 1,700 issues of Magic New Zealand, as Publisher and Editor of this informative, important and timely electronic newsletter distributed weekly since November 6, 1999 to magicians and subscribers world-wide, he has kept readers and the magic world up-to-date with the current events, news, broken wands, regular columns, conventions, shows and headlines from the world of magic, all summarized in a point by point format which is accessible, easily readable and expandable for more in depth discovery;

*Whereas he is an Award-Winning Magician, MIMC with Gold Star, the highest degree member of The Magic Circle, Award of Merit and the Hall of Fame from the Academy of Magical Arts, Queens Service Medal for service as a Magician, Past President New Zealand Society of Magicians and Brotherhood of Auckland Magicians serving multiple terms, has been featured on the cover of all the major magic magazines, and a recipient of many other awards and accolades;.

*Whereas he is S.A.M. Life Member #246 and the longstanding S.A.M. International Deputy for New Zealand, and through his participation at conventions, prolific contributions and warm friendship as a Compeer, his devotion, love and passion for the Art of Magic and the S.A.M. is truly worthy of his life-long deserved history of recognition;.

Alan Watson epitomizes the standards set by our founders and our motto,

MAGIC-UNITY-MIGHT

Therefore, be it resolved that the Society of American Magicians recognizes and congratulates

Alan Watson in the year Two Thousand Twenty-Three

Witness the hand and seal of my office during the term of my presidency, 2022-2023

(Signature)

Rod J Chow, S.A.M. National President

Dated: July 23, 2023