A show that will leave all ages spellbound
* Shopping Malls *
* Leisure Parks *
* Civic Park Events *
* School Fairs *
* Corporate Christmas Functions*
* Sports Clubs *
* Event Fairs *
Astonishing magic and illusions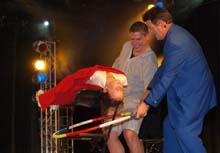 The versatility of Alan Watsons Family Magic Show makes it one of our most popular magical shows to book. As he can headline on the main stage of a shopping centre or perhaps perform at a company family Christmas party.

Each of his shows are individually tailored to suit your needs and age range. He can also bring his own professional sound system and music.

Alan was the resident magician at Rainbows End Leisure Park in Auckland and performed regularly there for over 26 years. His performances are very interactive and filled with comedy and humour that will leave you and your guests/clients/customers wanting more.


How Can I Help You?
Photo: Alan Watsons family magic and illusion show being promoted at Rainbows End Leisure Park.